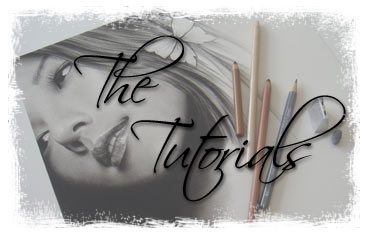 I have put together these tutorials to answer some of the many questions I receive regarding which materials I use and how I draw. You can see a few of my drawings step by step, as well as get my opinions on papers and pencils.

I am self taught and all the things written and shown here are my personal experiences. I believe there's a lot of different ways to draw, it really comes down to what you like and what works for you. I do hope you find my tutorials and advice helpful.

My tutorials are free to use but are all © Zindy S. D. Nielsen.

If you use and post them elsewhere please link back to my tutorial.



- Getting started
- Pencils
- Paper
- Erasers & Sharpener
- Fixative and Storage



- Graphite: Eye | Hair | Lips | Nose |
- Charcoal: Mouth | Eye | Hair
- Colour Pencil



- Drawings from beginning to end
- Work in progress


- Online Shops
- Local Shops





News

1/5-2012
The tutorial area is being updated at the moment. Materials have been renewed and I am currently editing old step by steps etc.
Check back soon for all new tutorials ( you can still access the old ones).

Added 22/4-2011
Lately I have been lucky to get my hands on some new drawing paper. Since I started playing with markers I decided to invest in some marker paper as well.

Added 15/10-2010

I recently came across these colours pencils from one of my favourite brands; Caran d'Ache. Luminance Permanent colour. I have to say I love the creamy consistency of the pencil. My preferred colour pencils are Caran d'Ache's Supracolor watercolour pencils. The Luminance pencils are even softer than these and work great when blending with other colour pencils. I mainly work with watercolour pencils as they tend to be softer and easier to blend when used together. (I don't use water with them though it's possible).
The Luminance comes in a great colour range, so far I only have a couple of them due to the high price. I have pale purple tones along with the raw umber 10%, which I haven't tried yet but imagine being perfect for lighter hair.
I strongly recommend these pencils.

Added 8/10-2010
New eraser pencil:


Last week when I went shopping for art supplies I found this awesome new tool; an eraser pen in the form of a mechanical pencil. It's probably the best buy in a long time. A few years back I had an eraser pencil, which you would sharpen like normal graphite pencils. This one has the advantage of not breaking when you try to sharpen it. I've only tested it briefly but so far I love it. I think it will be a perfect tool for graphite pencil drawings and I will be testing it on a drawing very soon.






All images and conte
n
t are Copyright © Zindy S. D. Nielsen
Everything posted are the property of Zindy-Zone.dk and do not belong to the public domain.
Do not copy
,
re-produce or use without written permission.