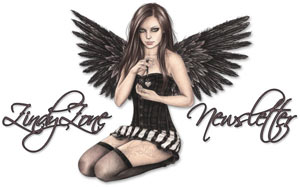 ZindyZone Newsletter
If you would like to receive the monthly newsletter you can sign up here: LINK

The newsletter includes special offers, the latest contests and occasionally give awaysand sometimes exclusive gifts for subscribers only.

View the online newsletter here:






Latest News
Here you can find new products, give aways etc.

April 2013:
New Postcards and Bookmarks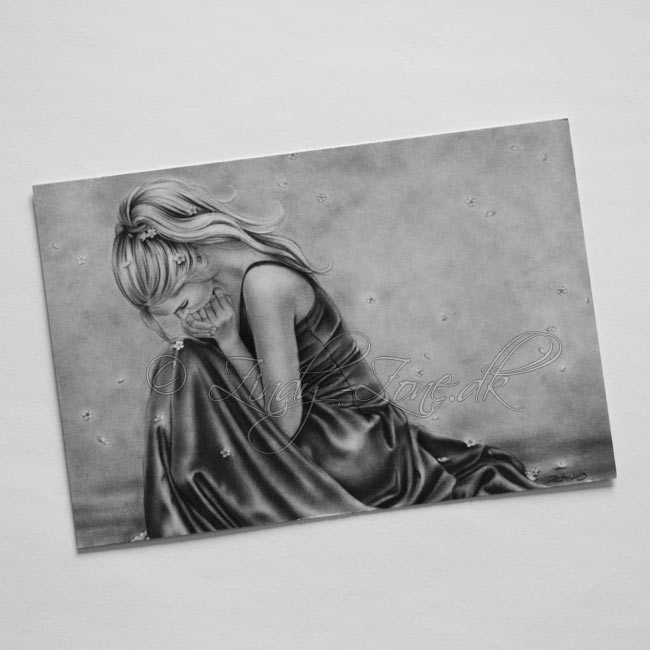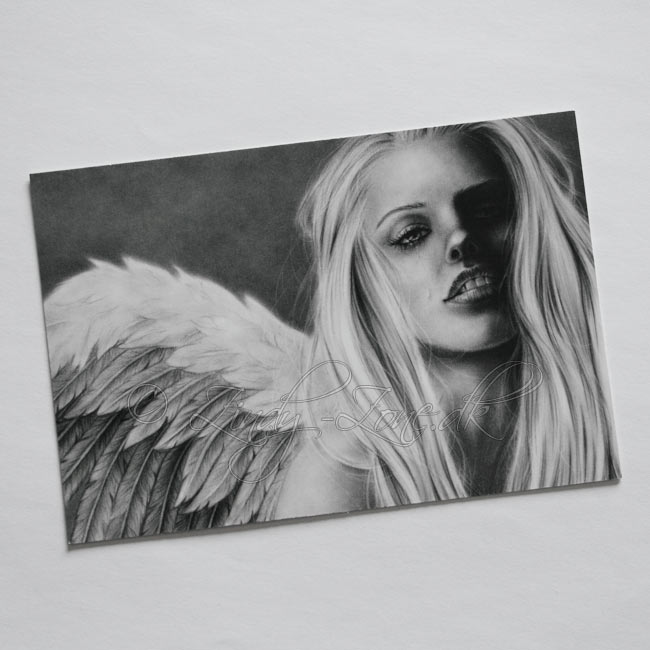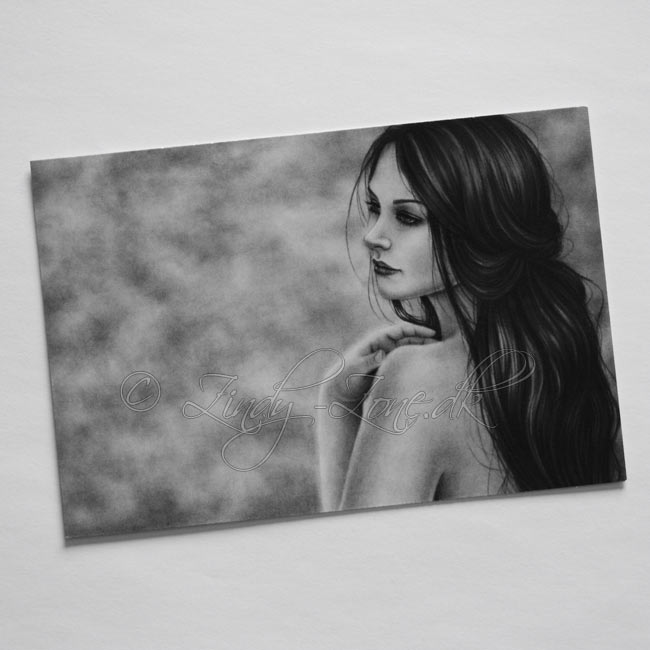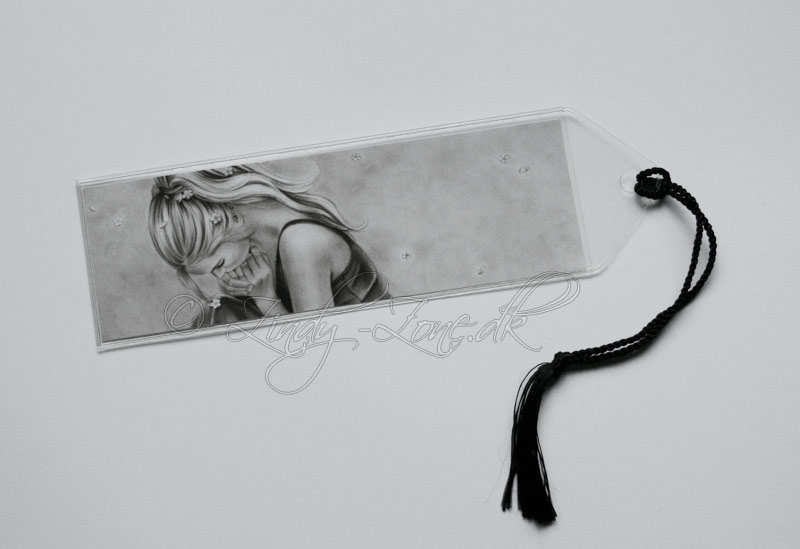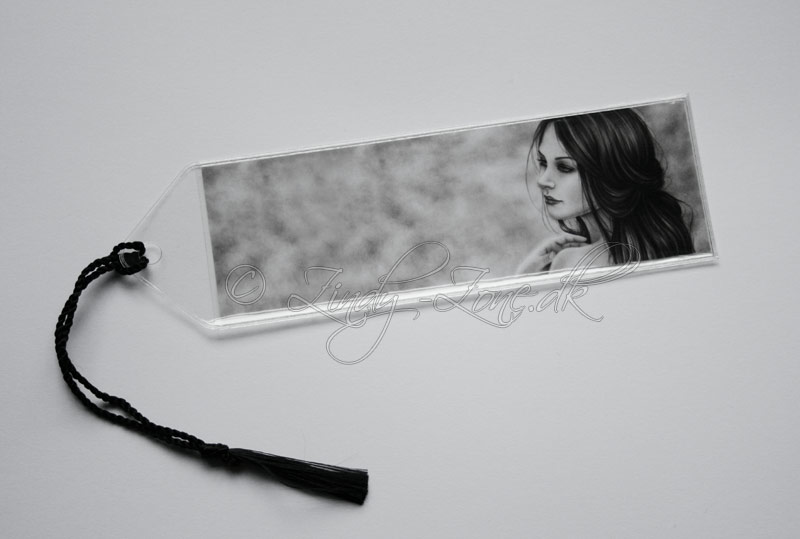 March 2013

The keyrings have been updated, you are now able to get a lot more drawings as keyrings.
New charms are available as well. You can still get the popular stars and key charms (1 and 2).
See them all here:
LINK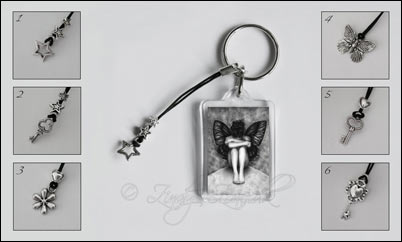 February 2012

All new notebooks availalbe through my Zazzle and Etsy store: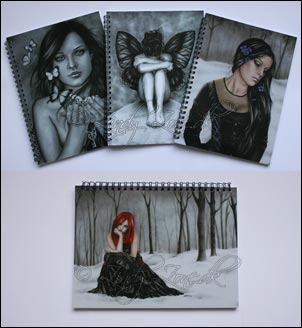 Beautiful printed notebooks available with my artwork.
Each notebook measure 6.5 x 8.75 Inches | 16.5x20cm.
It has 80 black & white lined pages with a cardboard glossy cover.
Available here:
LINK


Lots of new amazing products at Zazzle. Now you can get pillows, iPone cases, laptop sleeves, Notebooks and much more with my drawings. See the collection available here: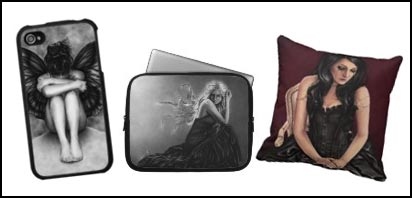 October 2011

My 2012 Calendar; A Gothic Fantasy is now available in pre-order. Delivery mid November:




Coming soon, Badges: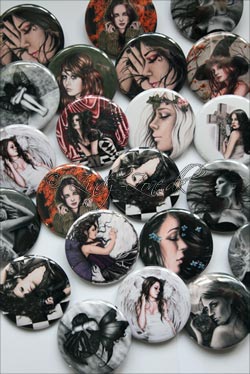 ZindyZone Shop 5 years

Birthday Give Aways

I am giving this fine matte print away of Sad Butterfly Girl to 1 customer who buys in September.
Sad Butterfly was one of my first fantasy drawings and has been one of my most popular drawings ever since.
It does not matter if you buy a small postcard, a bookmark, tube or prints etc,
everyone has a chance of getting picked as the winner will be chosen randomly.




I am giving away a Love Pack to a random fan on Facebook.
All you need to do is "Like" this post on Facebook and it could be yours.
Read much more here: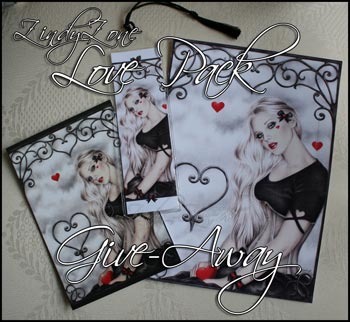 You can take part in both give aways.

August 2011

I am happy to share with you my new product line; Clocks.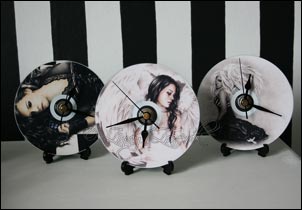 This little CD clock comes with a black plastic stand. You can either hang it on the wall or put it on your desk.

The clock used a regular AA 1.5V battery.
I have a very limited stock of these but I might get new supplies home later on.

Buy them here

July 2011

3 years Tube Independant sale
It's been 3 years since I left MPT and started selling tubes on my own. To celebrate this and thank you for your amazing support I have a big sale this weekend. See all the tubes on sale here:
LINK

Facebook Give-Away
I am giving away a print of one of the new seasonal fairies to a random fan.
Read more here: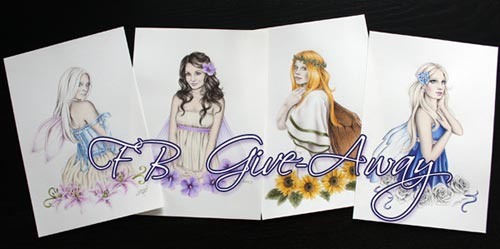 An all new bookmark pack with the faires are available for a limites time: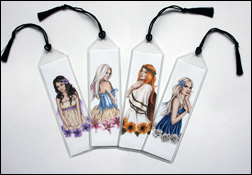 Buy them here

June 2011

Lots of original drawings on sale this month only!
LINK

A set of original ACEO's up for sale as well.

New Postcards
In July I expect a brand new bunch of postcard to be delivered. The new cards includes, Snow White, The Broken Chain, Borrowed Wings, Stargazer Fairy, Fragile Belief, Angel for sale, A dream of love and many more.

April 2011

April 1st weekend special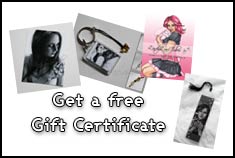 I will choose 1 random customer who has bought something from my shop between 1st-3rd of April and gift a free gift certificate on 20$ to use on any product from the shop.
I will announce the winner at my site and my blog Monday.

Postcard Special
All my new postcards 50% off as introduction. April only!

March 2011

~Brand new Postcards ~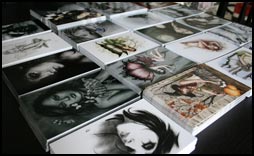 See large photo

I was very exited to receive my brand new postcards and bookmarks. I've been saving up last year to buy a lot at once, now I should be stocked for a while.

They look very much like my old ones but they are a bit different in size, 4x6inches (10x15cm). They are great quality; thick cardstock with a glossy surface.

See them all here:





Prints:
Since it has been such a success I am going to have another double up on my prints.

Buy 1 – Get 2
Buy 2 – Get 4
Buy 3 – Get 6
This is only for 8.2x11.7 Inches | 21x29 cm prints as well as ACEO prints.
50% off the new drawing, Snow White, only in March.
Mixed:
25% off on the 2 new keyrings, A dream of love and Snow White. The first week only!

See all the specials here:




December 2010

I have a ZindyZone Christmas Give-Away at the FB site, read all about it here: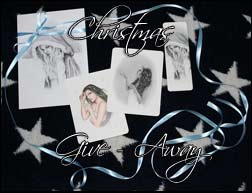 November 2010




The Black Friday Sale lasts from the 25th-28th.

Big sale on a lot of products in my shop, up to 70% off on tubes and 50% off cards.

Postcard and Greeting Cards Clearance sale!
I'm having a major clearance sale on my cards as I am switching to a new type next year. This means I have half price on all cards! If you are collecting the cards now is the time to get all the ones you are missing.

Double up on prints – this weekend only
Buy 1 print - Get 2
Buy 2 prints - Get 4
Buy 3 prints - Get 6

2011 Zindy Art Calendar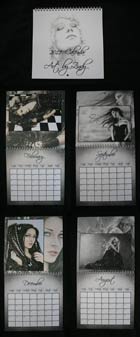 The limited edition 2011 has finally arrived from the printer!

This year the calendar features 12 of my conceptual and fantasy artworks, mainly black and white work.

The calendar includes the following drawings:

Dark Hope
Watching it fly
You broke it
Free Spirit
Imperfect Angel
What's left of me
Unleash the butterflies
Everybody's Leaving
Ice Blue Winter
Loosing my halo
Midnight Rose
and more...

The calendar features an unreleased drawing as well, which won't be released until December 2010, you'll be the first to see it!

Order Now

September 2010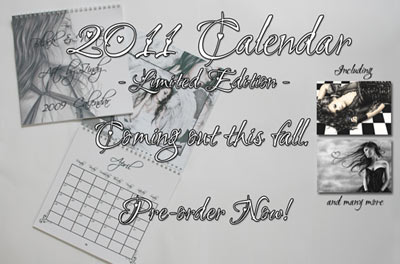 2011 limited edition art calendar Pre-order

Next years calendar is now in pre-order.
It will feature 12 of my conceptual and fantasy drawings, mainly black and white works - 1 of them is an unreleased drawing, which you'll be the first to see since it won't be released until sometime in November/December.

Note: First 5 to buy the calendar get a free 8x11" print. You can choose between any of the drawings featured in the calendar.

The calendar includes the following drawings:




…and more

The price for the calendar is 19.95$ + Shipping costs 10$ (I know, we have crazy shipping prices here in Denmark :/)
I also accept £ or Euros, you can see the prices at the shop as well.

The calendar is expected delivered October 2010.

Pre-order calendar here:
ORDER

If you aren't already signed up at my store you can also buy it just by writing me a mail about it contact(at)zindy-zone.dk.

The design will be similar to my previous calendars, measuring 8x8" (21x21cm), you can see last years calendar here:
LINK

I have my calendars printed with a professional print company here in Denmark. The paper is thick and with a matte finish.

September Specials:

September 8th it's the 4th birthday of the ZindyZone Shop. Thanks to all of you it's been a great 4 years. I have lots of cheap tubes, prints and more the following days.
The birthday specials last throughout the week.

See them all here:
SPECIALS


June 2010

My latest drawing, Watching it fly is up for auction on Ebay starting at only 0.99£. I ship to all over the world, meaning everyone can take part in this auction. Follow the auction here:




I have 2 new bookmarks available:





See June's Specials here...

May 2010

There is a large sale on my shop this month.

All orders above 39.95$ receives a free bookmark by choice.
All orders above 69.95$ receives a free 8x11inches print.

See more here...

April 2010

Get a free print
Out of all the orders made in April I will choose a random customer who will receive a free 8x11 inches print (A4). You decide which you like and it will be delivered to you all free of cost. This apply to any product bought at my shop no matter amount.

Specials:
50 % off all prints from the Flower Girl series.
25% off all Flower Girl Tubes

See more here...
__________________________________________

February 2010

I now have my new line of key rings available. My older ones will no longer be available, except from a few of the ones left.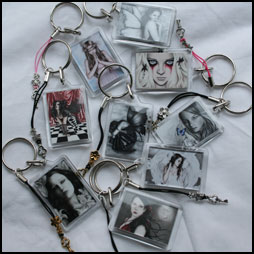 I also have 2 new bookmarks available with Dark Lily and Unleash the butterflies: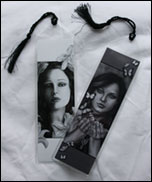 See them here

__________________________________________

January 2010




You can now get mousepads with my drawings, they are very thick quality with very strong colours looking great beneath your mouse.

See the mousepads available here: link
__________________________________________

December 2009

Lots of new Christmas cards avalable, see them in Greeting Cards.
Half price on all kitten prints.

Note:
All prints and merchandize you wish to receive as gifts for Christmas I advice to order this weekend at it's latest. I cant guarantee delivery before Christmas otherwise, as the post is often delayed during this time. This especially applies to shipping to US. Orders from UK and the rest of Europe should be able to order until mid December.




October 2009

October is the international Breast Cancer Awareness month, please read more here: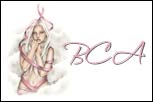 Print offers
Buy a 8x11 inches print and get 1 extra (8x11) for free. All you need to do is write the title of your wished print in the message box when placing the order at my shop.

Half off on all gift packs!

Visit the shop

2010 calendar pre-order
You can now pre-order my calendar and get a free print along with it!
The calendar includes 12 of my fantasy and dreamy drawings.
More info: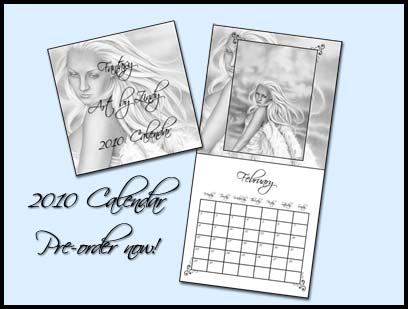 August 2009:

New Zazzle store
In addition to my own webshop I have decided to open a new shop, located at the online shop - Zazzle. You will be able to purchase different products than the ones available at ZindyZone Shop.
Products available are mouspads, mugs and soon different shirts. Visit my shop to view products available:
Zazzle Store
I have bought different products from there and I find the quality great, so don't be afraid to purchase my products through them.

July 2009:

All print orders above 20 $ gets a free bookmark by choice.
The 15 of July is a year ago since I went independent and started selling my own tubes.
To celebrate this I am having some great offers on selected products in all categories Wednesday 15th. Be sure to step by to see them.
Specials
All new product in July - Keychains
They come in 5 different motives and models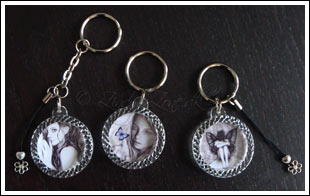 May 2009:

More drawings are now available as greeting cards, see all the new ones below:




This month I am continuing the spring and summer theme and will have special prices on some of my fairies, angels and dreamy drawings.
Also this month I am having a special sale the first weekend of the month, starting today.
You are able to get selected prints and tubes at half price.
See all the specials here:
Specials

April 2009:

Spring has just begun in Denmark, my favourite season of them all.
With that I will have special prices on a lot of my fairies and colourful drawings.
See all the specials below:



First weekend of April I am having a special sale, you will be able to get some prints and tubes at 50%.

Marts 2009:
February 2009:

I am having a big sale in February + I have a special drawing created for Valentine's Day. It makes a sweet gift for your loved one.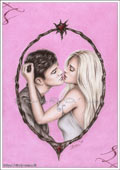 Every print bought of Picture of love gets a free bookmark along with it all February month.
Buy here

Special Valentine Bookmark: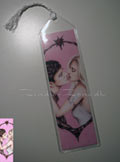 Buy here

Prints: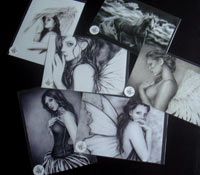 I am taking between 50-70% of the normal price of the following prints all February month:

Her protector
Picture of love
You and I
Girl with the rose
Sadness of an angel
Shh now baby
Ssh Now
Fairy girl ll
Sweet kisses
Run for freedom

Note: Every print sold in February gets a free bookmark along with it + a matching postcard( if I have the drawing available as a postcard, otherwise you get a similar one).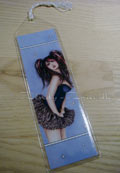 Bookmarks:
Sad Butterfly Girl
Shh Now Baby
Her Protector

See all bookmarks here

Special gift packs:
I am also having special gift packs with selected drawings, more will be added during February.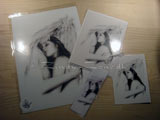 See all the specials in February here

January:
This month I have a bit of everything on sale. Mainly a few of my angels and fairies prints.
I also have the double pack of my 2009 calendars on sale, I still have a few left.
See all the specials here:
Specials

December 2008:

15th of December
As some of you have discovered already I now have my greeting cards available as well as more postcard packs, see more here:
Greeting Cards and Postcards

1st of December
All December I have a major sale on a lot of products in my shop.
Both bookmarks, tubes and a lot of prints. There's a bit of everything, both light and dark art.
If you wish to gift someone for Chrismas now is the time to order.
Orders after the 16th of December I can't guarantee will arrive in time for Christmas (unless you live in Denmark).
Visit the shop for specials: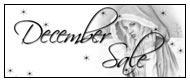 November 2008:
October has been a busy month for me. I have been preparing a couple of new things with my drawings.
I am happy to introduce a new product in my shop – bookmarks.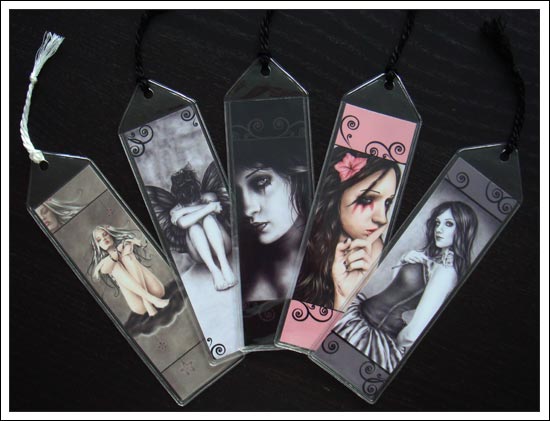 The bookmarks are 1.9x6.6 Inches (5x17cm). They are printed on glossy photo paper, with the same quality as a print from my shop.
The tassels are homemade and match the drawing in colour.

See the bookmarks available here (more will be added soon):



October 08:

October is a special month, read more here:



September 08:

The 8th of September my shop will have it's 2 years birthday.
I will have special offers all month and on the 8th you will be abe to find extra great offers, only lasting a day. A few chosen prints will be 50 % off the normal price.
Be sure to check out the ZindyZone Shop, you might find something you like and be able to save a lot.



August 08:

This month I have chosen my print specials to be happy/butterfly themed as it's one of my own personal favourite months, because it reminds me of smiles and happy things. Therefore I will have special offers on prints with this theme in all August month.
See the specials here:
August Specials
As you might have noticed I recently added a new product type to my shop, Tubes. I plan to offer a few new merchandize products with my drawings, which will be online around mid/late September.


June 08:

June Specials:

March 08:
Due to the shipping prices going up here in Denmark I have put an extra 10 $ on all prints, as some of you might have noticed. It's very expensive to ship out of Denmark which is why I found it nessesary.
I will still have special offers once in a while.
September
2007:

My shop will have it's 1 year birthday. With that I will have some special offers. Be sure to visit, you might be able to find something you like!:)