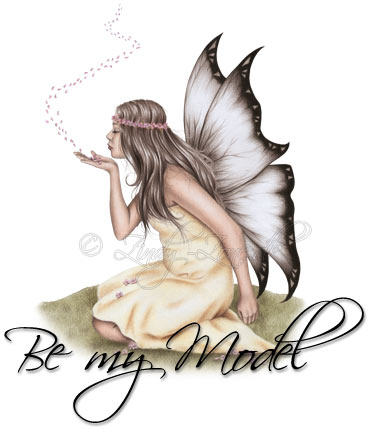 ~ Fairy Inspiration ~

It's time for an all new round of the Be my model contests. I haven't done them in a few years and this is the perfect time for a fairy contest, with spring around the corner. I always connect fairies with spring.

As already mentioned I am looking for some reference photos for fairy drawings. I got a project coming up with a line of fairies - you could be part of it!

I am looking for all types; both males and females. I'd love to see some children as well.
I'd like to see some interesting and innocent poses, anything fairy related.

Be creative. Take some photos in the nature with flowers around you. Lay in the grass of grab some leaves and put them in your hair. Anything nature and magic will definitely inspire me the most.
Remember that this is a fairy contest and thereforemost of your body needs to show. Close up face photos won't be useful for me.

Would you like to be my model?

You can send as many entries as you like.
Please keep in mind I can't get back to everyone personally as I get hundreds of entries usually and it would be too much. It's only nesseary to send your entries one time, I will save them all and go through them all after the deadline.

Deadline is May 1st 2012.

Send you images to my email:
contact@zindy-zone.dk

The winner will receive a small print of the drawing once it's completed.