- Little Cat -

Another ACEO drawing I did late June. I really was sparkled at the time and did a lot of these drawings.
I did this for a special purpose though; to collect money for my mom's 4 new kittens. As I have mentioned before my mom is taking care of the abandoned cats in the neighbourhood, sadly too many people leave their cats behind.
I hope the funds of the sale of the drawing will help her a bit with food and pills.
Thanks so much in advance to everyone who's bidding on it.
Made with graphite pencils on Lana drawings paper (290g/m2).
( 2.5x3.5" | 64x89mm)
All sale of this print will go to my mom's kittens as well.

*Original Sold*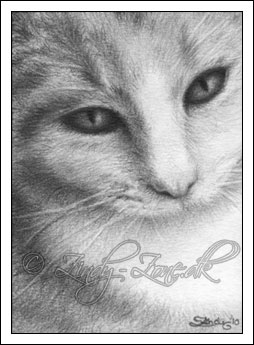 © Zindy S. D. Nielsen